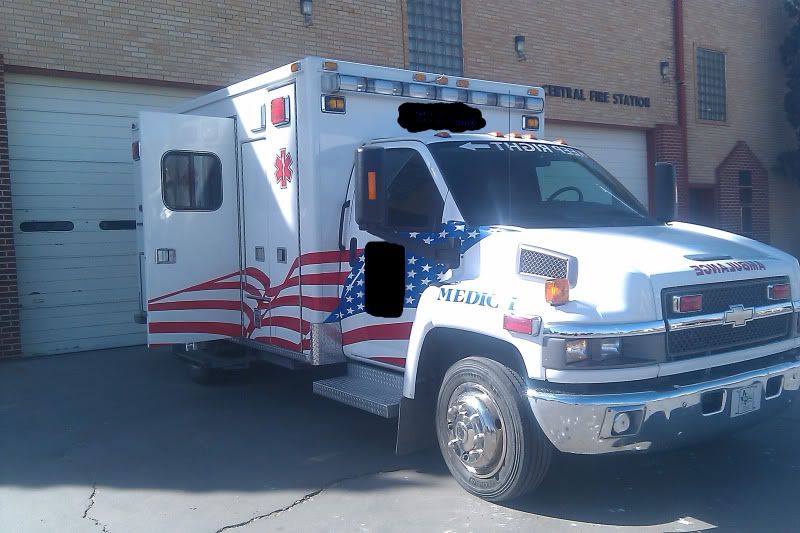 So I made it through my first week. It wasn't bad (Except monday, but I'll get to that), and actually kinda fun.
Monday was the easiest day of my week. I went to the station at 0800 and filled out a little paperwork. Then I went to City Hall (right behind the station) and wound up in Hell. The city orientation is basically locking you in a room with someone from HR, and you have to read, out loud, the city employee handbook. All 60 pages of it. Then sign some more paperwork. It only took about 4 hours, but it felt like it lasted forever.
Tuesday through Friday I ran on the 0600-1800 shift as third man on the trucks. Trying to get my feet wet and learn the protocols. I Found out just how different this system is than any other system I've ever worked in though.
One of the big things was when we were toned out to a MVC. It was out in the county and we wound up scrambling a bird to meet us on scene due to how far out it was. Our local VFD was also paged on an all-call, with no telling how long it would take them to get in the rescue truck and get to the scene, since it was the middle of the day and no one is on duty at the station, ever.
My medic unit got on scene first, and with a crew of three plus the cops on scene we split up and each took a pt. We also called in to dispatch and had them send medic 2 out when the on call crew got to the station. We had a 2 vehicle MVC, with one car being T-boned by the other. The car that was t-boned had two people in it, while the car that hit the first had one. I went to the side impacted vehicle and started assessing. The lead EMT-I on the truck (it was me, a basic, and another EMT-I as the crew that day) brought me a couple of c-collars and told me that I would be on my own as him and the basic got the first patient into our rig.
I looked around and noticed that the only people around me were LEOs. This in itself was very unusual for me. Back in ABQ or Denver, by this point, we would have at least an engine company on scene, and maybe a FD rescue as well. If not a truck and engine company. I got in and got collars on both patients and had PD hold stabilization for me while I assessed both patients. The driver seemed a little dazed but denied LOC, and only had a couple lacs on her forhead from glass from the passenger window breaking. She was belted in, with no damage to the steering wheel or starring of the windshield. I looked over at her passenger and decided she was stable enough to wait.
The passenger wasn't so lucky. His side of the car had been hit, shattering the window and causing about a foot of intrusion into the passenger compartment. His seat also apparently broke and was reclined the entire way, with no sign of the seatbelt being worn. He was less than alert and moaning that his right ankle hurt (with the intrusion that was no surprise), and so did his back. We couldn't get into the car from his door due to the damage. The crew of Medic 2 comes up to me while I'm assessing my second patient and getting a line in him, and asks me what I need. Imagine my surprise that my chief is on the crew of Medic 2! Talk about nervous.
I tell them that we need to get my guy out, but we can't until the FD gets here with Jaws. So I tell them to extricate my female patient and get her to the rig. When that happens we finally get some FD showing up (about 15 minutes into the call) and they come over to me to see if I need anything. It's at this point I find out that a couple are trained to the ECA (First Responder) level, and there's only one EMT on the FD, who happens to be the basic on my truck today. Most don't even know how to board and collar someone. Great.
While they're setting up the jaws I see that his foot isn't trapped on the door, just hung up. So I figure out a way to pull him out without cutting into the car. We get him out and on a board much quicker than we could have if they cut the car apart. This also pisses the FD off and makes them mad at me since I took away their reason for cutting apart a car.
To finish the story we get him loaded into my rig and run code to the ED with him, then wound up transferring him to the trauma center later. We cancelled the bird when we saw the scene and realized we didn't need it.
This call woke me up to what a rural provider has to do. As the EMT-I on a truck with a basic partner (which will be my arrangement once I'm done with mentorship) I will have to be in charge of patient care, maybe of several patients, just the two of us. With no real backup except maybe our on call truck or a bird coming in. FD response can be very slow, and PD doesn't like getting their hands dirty, at least that part doesn't change.
I don't know how many of the medics I worked with in ABQ would be willing to, or do well at, working in a system like this. They got way too used to have 3-5 medics plus a slew of EMTs standing around on scene just waiting to be told what to do. Working in my new system means I've got to handle everything that comes at me, and be able to do it fast and efficiently. Not to mention long transport and response times.
But to tell you the truth I don't think I'd trade it for anything. I'm very excited to go to work tomorrow morning (well, except for the whole having to be there at 0600 thing 😛 I much prefer nights), and continue to work here.
There's a few more things about this system that shocked me, but I'll get to that later. For now I'm gonna crash out pretty soon.